Rotaria neptunoida, creeping. (1)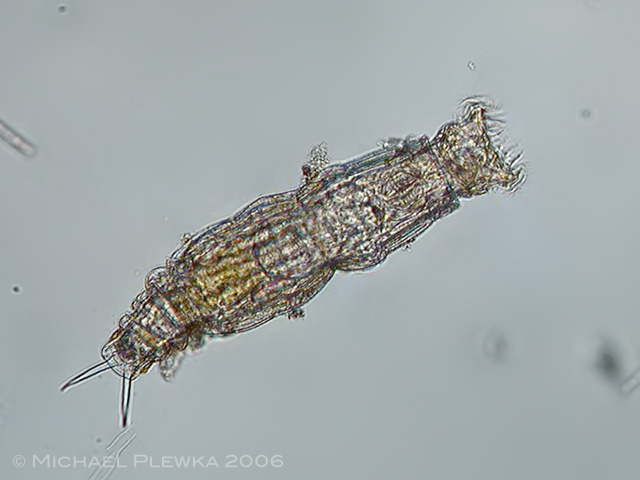 Rotaria neptunoida, whirling. (2)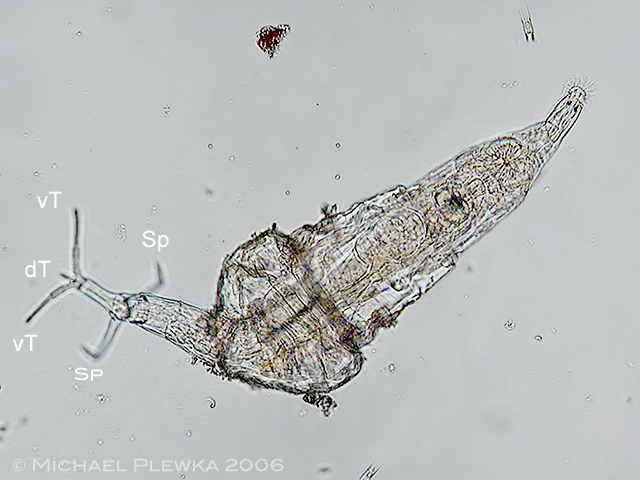 Rotaria neptunoida, focal plane on the foot with the bendable spurs (Sp) and toes. The ventral toes (vT) are much longer than the dorsal toes (dT). (2)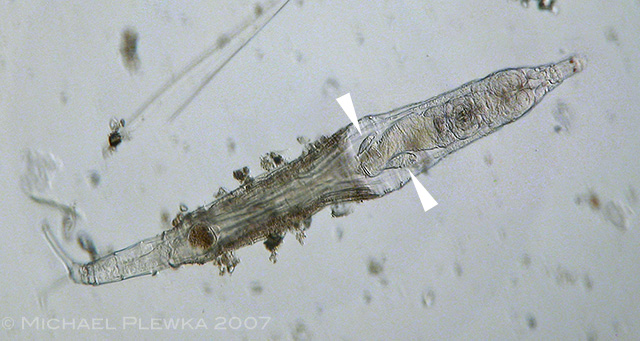 Rotaria neptunoida, the triangles show the extreme long footglands (27.07.2007)



Rotaria neptunoida, three stages of movement (1)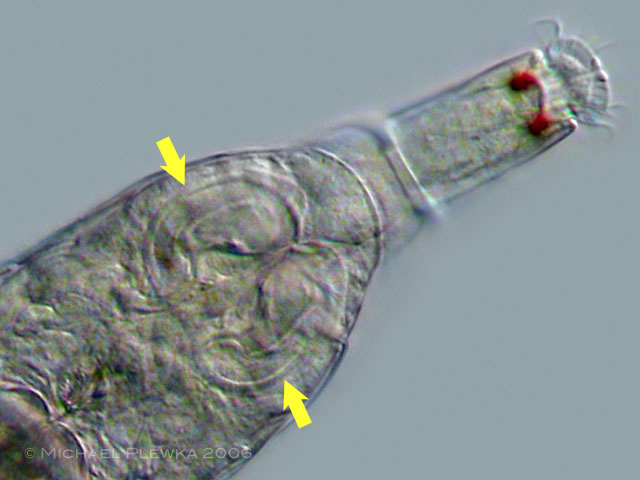 Rotaria neptunoida, head. Two eyespots on the rostrum. The lamella is single-lobed without notch. The arrows point to the retracted trochal discs. (1)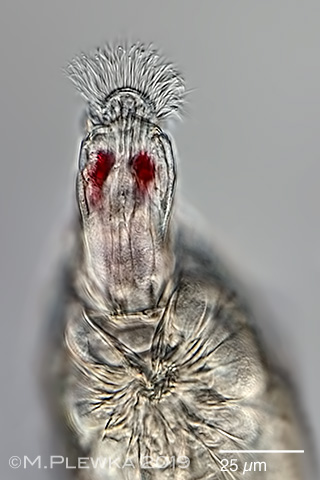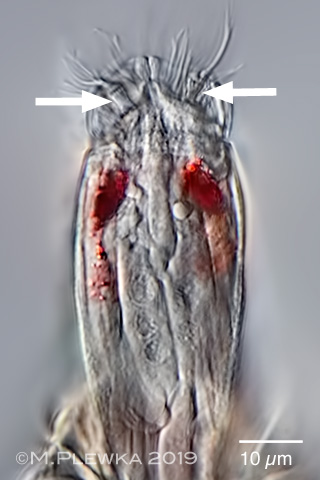 Rotaria neptunoida, rostrum while creeping from a specimen from (5). Left: focus plane on the cilia of the rostrum. Right image: two papillae (arrows) with ?sensory? cilia/ bristles which are permanetely in movement. Often the pigment of the red eyespots in the rostrum seems to "dissolve" in Rotaria species.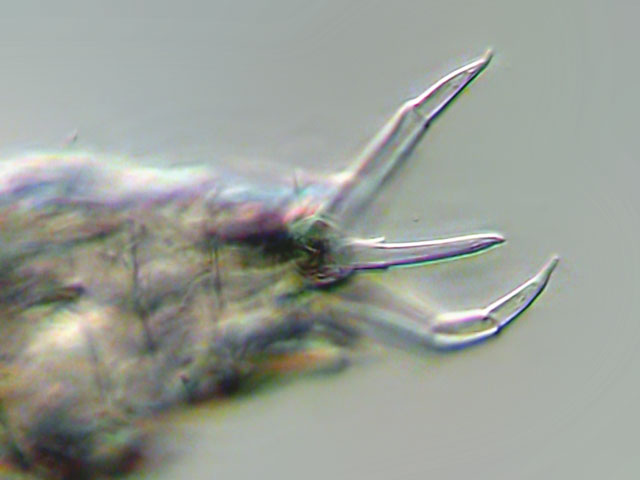 Rotaria neptunoida, Foot with toes. (1)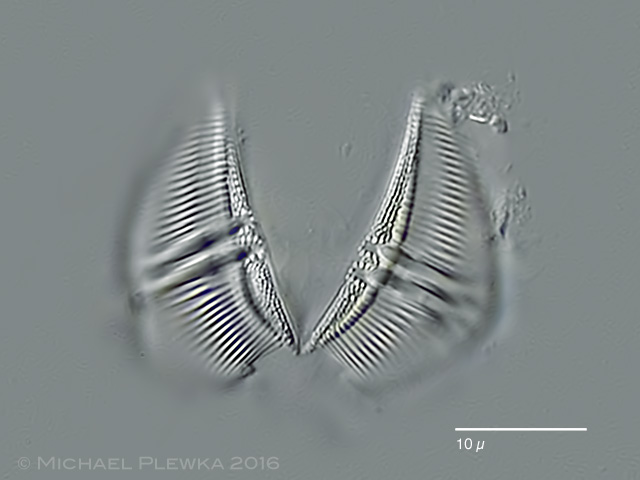 Rotaria neptunoida, trophi in cephalic view. Dental formula 2/2. (4)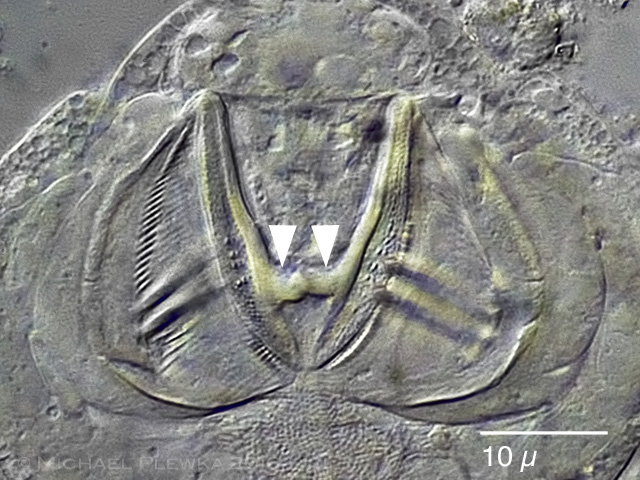 Rotaria neptunoida, ramate trophi in caudal view. The rami apophysis become visible (arrowheads). This can help to distinguish R. neptunoida from R. tardigrada where the rami apophysis are lacking. Also the rami length of Rotaria neptunoida is smaller (22.4 ± 0.3 µm) than the rami length of R. tardigrada (33.1± 0.6µm) (Fontaneto (2004)).(4)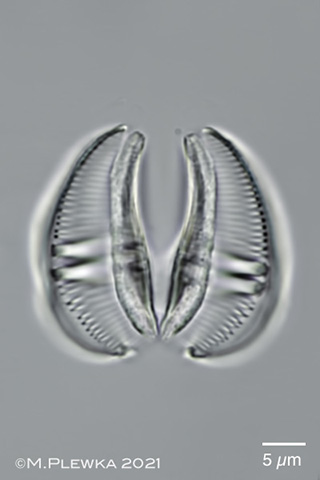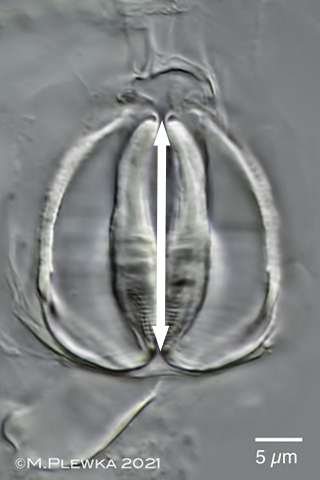 Rotaria neptunoida, ramate trophi of specimen from (6). Left; cephalic view; right: caudal view. Rami length (RaL; double arrow): 24µm.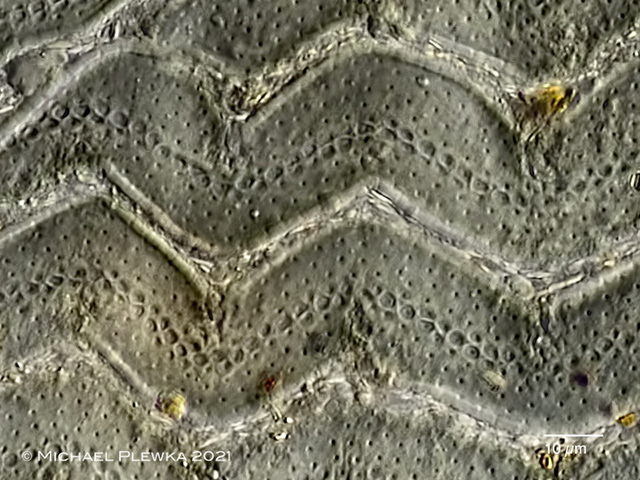 Rotaria neptunoida, integument of the same specimen. This integument has a central row of large pores and small pores accompanying this row between each longitudinal fold., which is in contrast to the structure of the integument of R. tardigrada. (6)
Location : Gevelsberg, Stefansbachtal, Grünes Klassenzimmer, pond (1); (2); (3); Felderbach Mühlteich (4); IG-Metall Bildungszentrum, pond (5); Sprockhövel-Schee, pond (6)
Habitat: decomposing leaves (1); (2; (3); between algae/ water plants (4); plankton sample (5); plankton with detritus (6)
Date: 19.3.2005 (1); 03.06.2006 (2); 27.07.2007 (3); 27.05.2016 84); 13.02.2019 (5); 28.12.2021 (6)
Identification by courtesy of Nataliia Iakovenko, University of Ostrava, Czech republic.