Habrotrocha ligula, whirling specimen; dorsal view. The conspicuous ligula in the sulcus is visible. In contrast to the morphotype here: (H. ligula) the trochal discs are close together.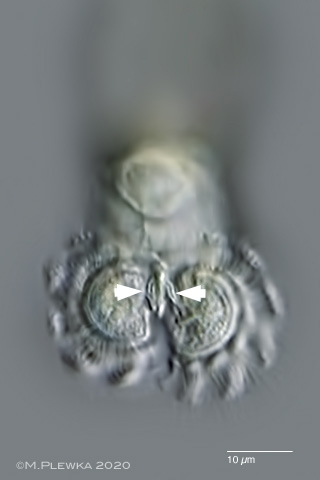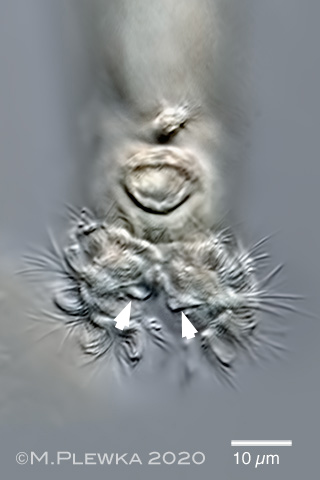 Habrotrocha ligula, detail of the head, front view with different angle to the longitudinal axis of the rotifer. The arrowheads point to lobes/ extensions of the trochal discs. Right image shows the rostrum and dorsal antenna in focus.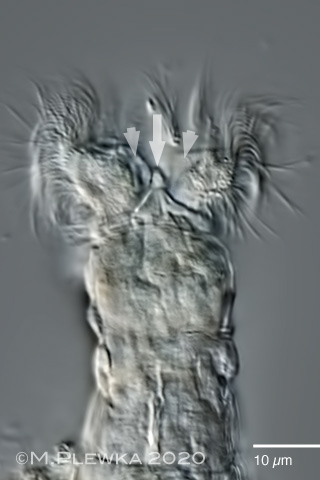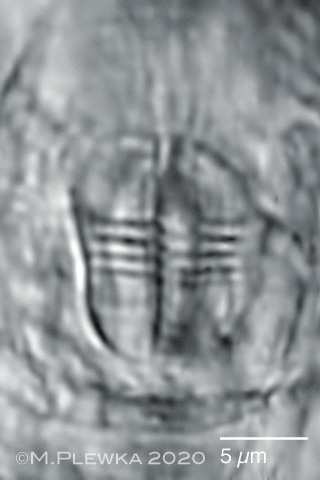 Habrotrocha ligula; left image: head of whirling specimen in dorsal view. Focus plane on the upper lip and the ligula (arrow). The arrowheads point to the lobes on the trochal discs (see front view of head in above images). Right: ramate trophi of living specimen (still image from a video) with dental formula 4/4+1.
Location: Villa Markisa, Tulamben, Bali, Indonesia
Habitat: moss on pot (click image to enlarge >>>)
Date: coll.: 13.03.2020, images: 26.03.2020;