Asplanchna girodi, lateral view, whirling. Specimen with resting egg in the ovary. (1)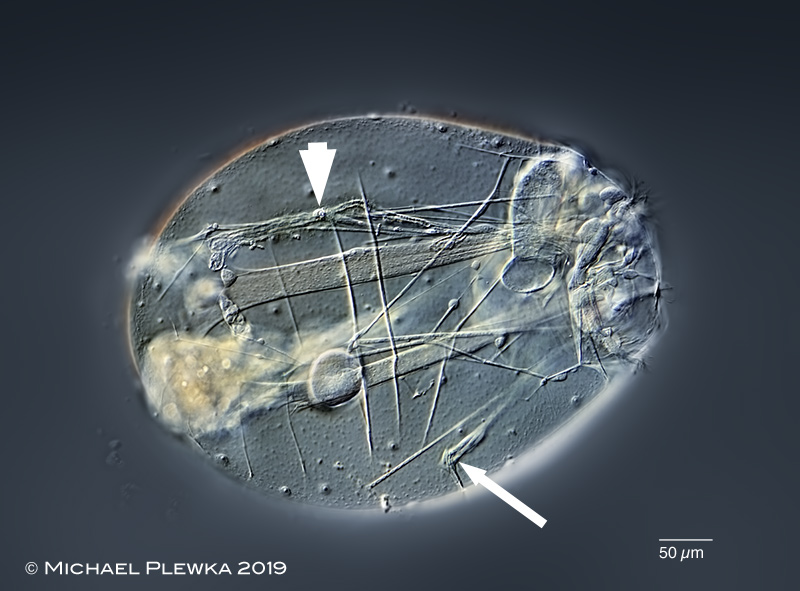 Asplanchna girodi, another specimen, corona retracted (due to the impact of the mirror of the camera). The arrow points to the location of the pair of dorsal antennas; the arrowhead marks one of the lateral antennas.. (2)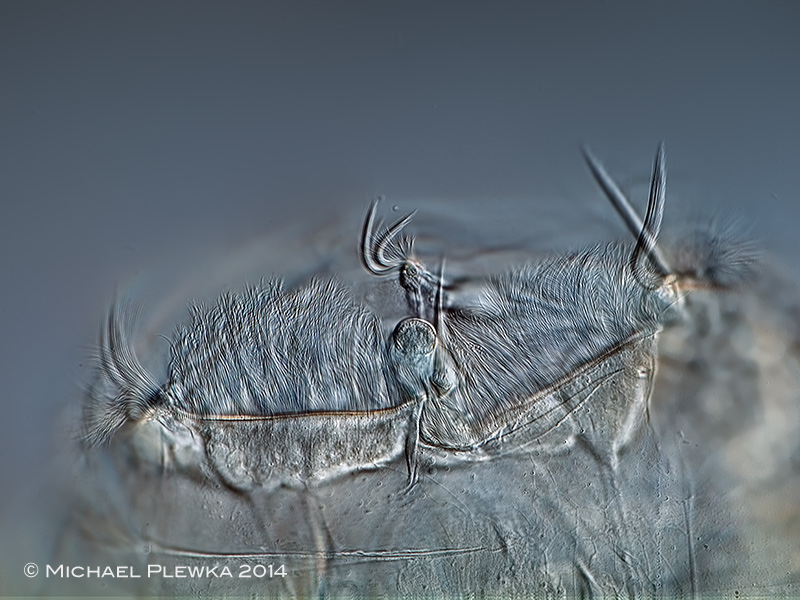 Asplanchna girodi, corona, dorsoventral view. (1)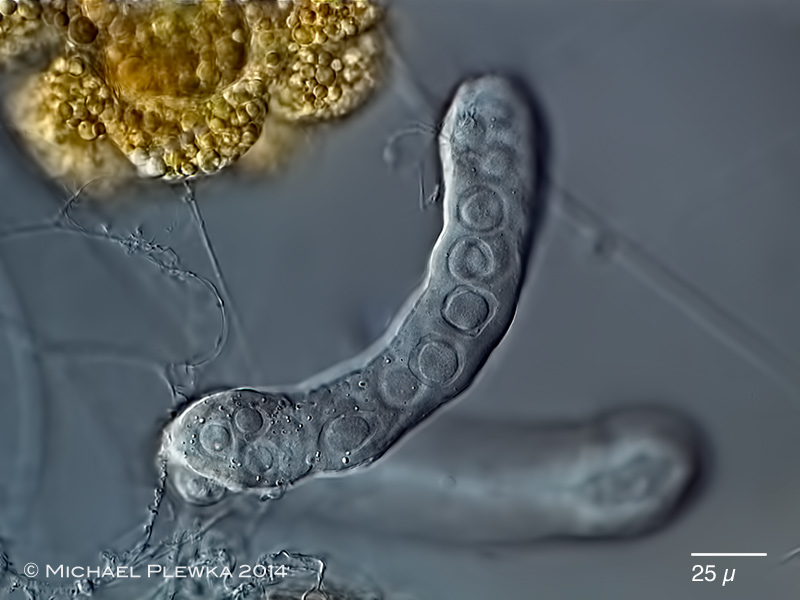 Asplanchna girodi, sausage-like vitellarium (1)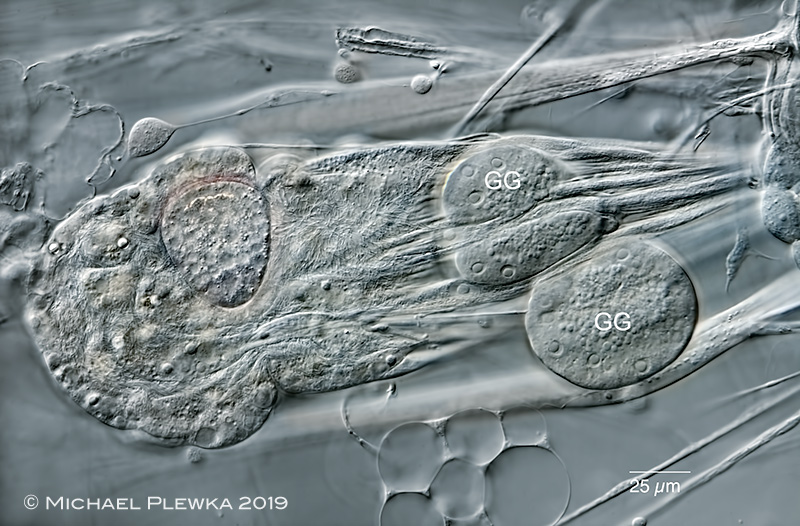 Asplanchna girodi, intestinum with 2 gastric glands (GG) (2)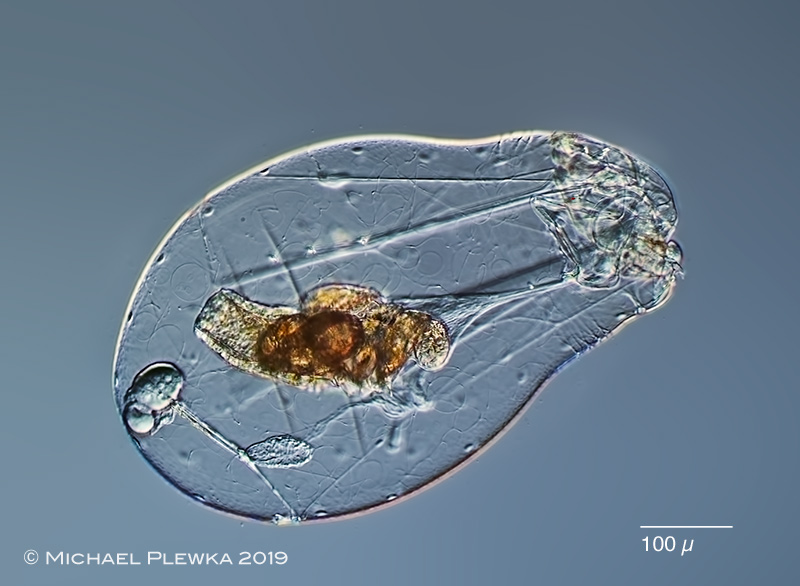 Asplanchna girodi, like other Asplanchna species A. girodi is a predator of other plankton rotifers. This one has swallowed 7 Keratella-rotifers. (2)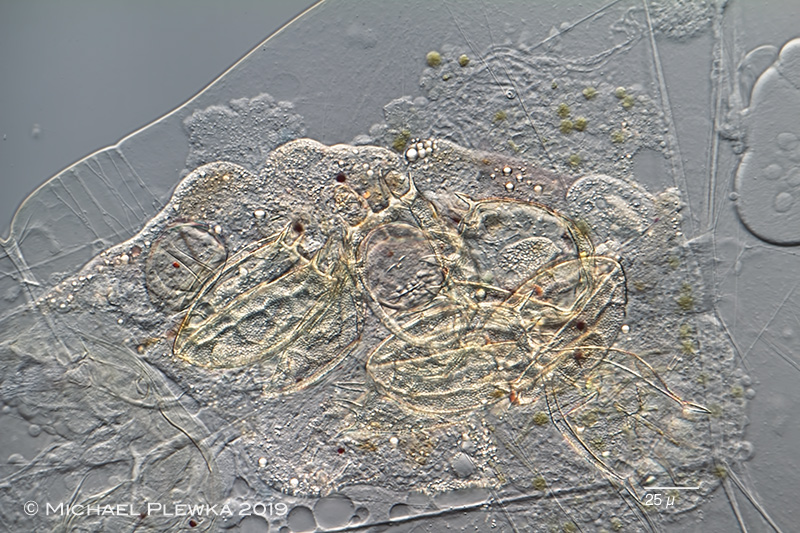 Asplanchna girodi, intestinum of the above specimen. (2)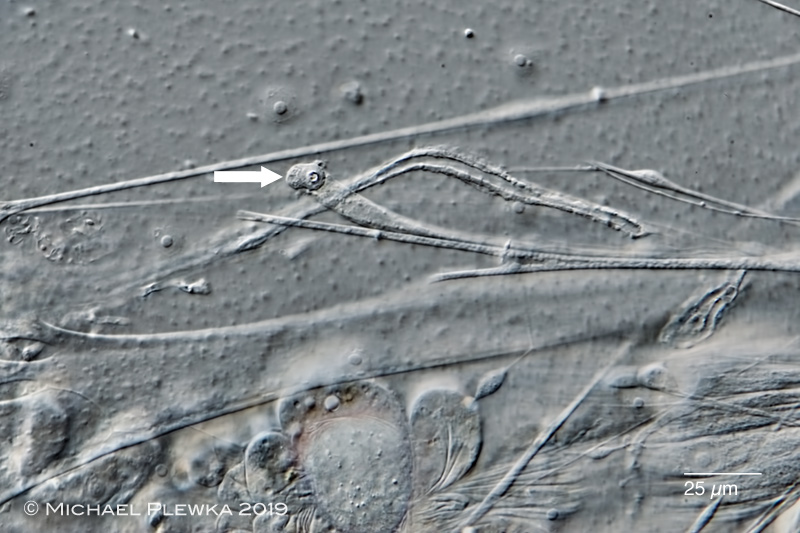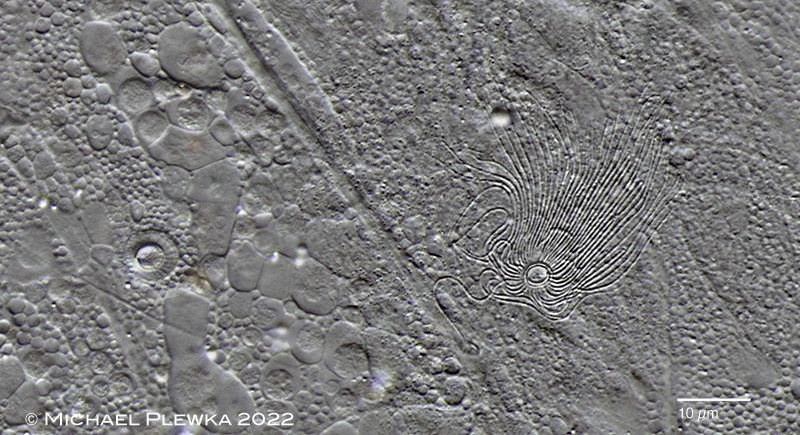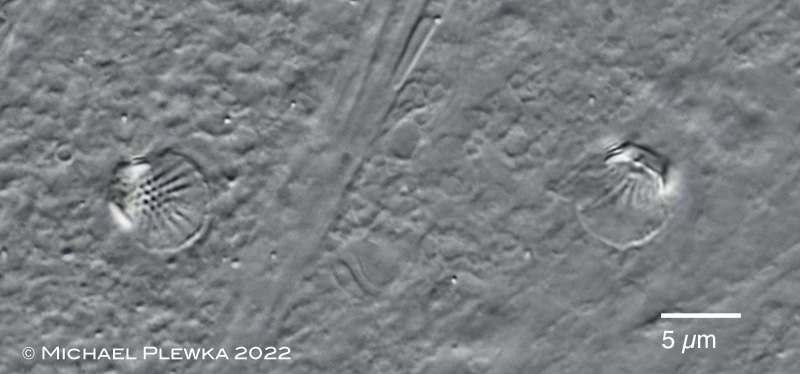 Asplanchna girodi, lateral antennas: upper image: one of the lateral antennas of specimen from (2). Mid image: compressed specimen showing the two lateral antennas (right: sensory cilia are in focus). Lower image: same specimen ; focus plane on the chitinous openings of the sensory cell (4).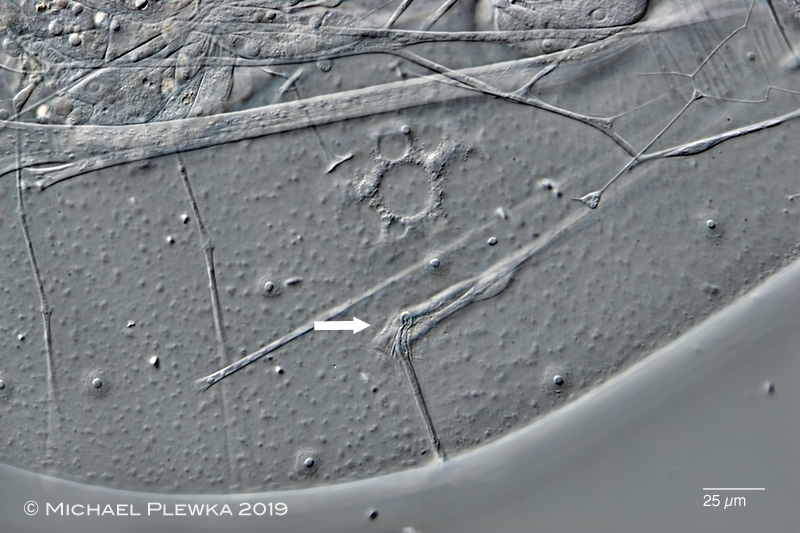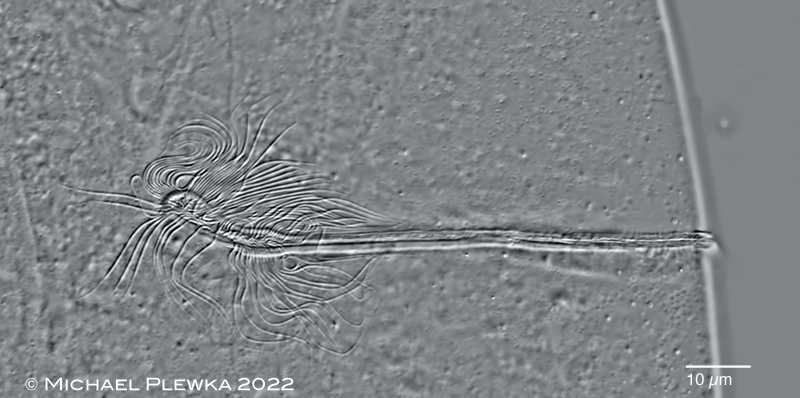 Asplanchna girodi, while most monogonont rotifers have a single dorsal antenna Asplanchna has (like some other monogonont rotifers like for example Notommata tripus or Notommata contorta) two dorsal antennas. Upper image: compressed specimen from (2); lower image: detail of compressed specimen from (4).
Asplanchna girodi, incudate trophi of two different specimens.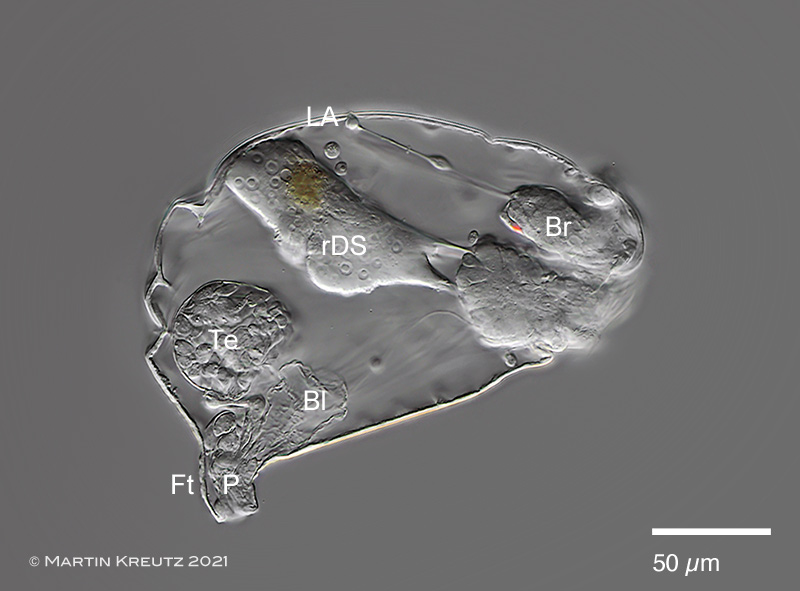 Asplanchna girodi, male specimen. In contrast to the female the male has a foot (Ft), where the penis (P) is protruding. Like other rotifer males there is no mastax/ trophi and the digestive system is reduced. This rudimentary digestive system (rDS) has the function as reservoir of energy-rich substances. Also in focus in this image is the brain (Br) with red eyespot, one of the lateral antennas (LA), the testis (Te) and the bladder (Bl). Image courtesy of Dr. Martin Kreutz, Litzelstetten (3)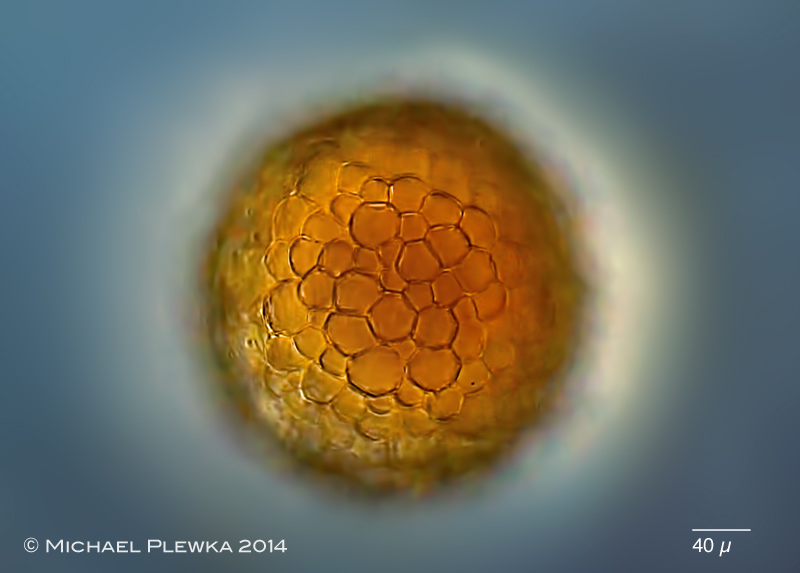 Asplanchna girodi, resting egg. (1)
Location (4): water reservoir Heilenbecker Talsperre; Ennepetal, NRW, Germany
Habitat (4): plankton
Date (4): 08.07.2022
Location: Etang de Kegoat, Bourg Blanc, Brittany, France (1); Plabennec, Brittany, France (1), lake (2); Rhine, near wastewater treatment plant Wollmatingen/ Konstanz (3)
Habitat: Plankton (1); (2); (3)
Date: 11.05.14 (1); 11./12.08. 2019 (2); 10/ 2021 (3)